Biography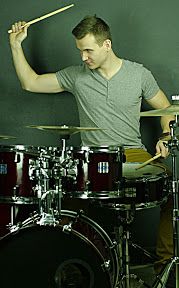 Hi, my name is Piotr Kacprzak. I was born 1986 in Tarnów, Poland. I started playing drums at an early age. As soon as picked up a pair of sticks and hit the drums built from cartons boxes, I knew straight away that I would never put those sticks back down. I began attended private drum lessons and music theory at the age of 14, where I learnt how to read notes, work with a metronome as well as being introduced to music by drummers.
At the age of 16 I started studying at Krakow School of Jazz and Contemporary Music. Where I start interesting in different styles of music funk, fusion, jazz, rock and orchestral music. After finishing school I decided that I wanted to continue studies with music. So I started studying at The State Higher School of Vocational Education, and graduated with a musician teacher title. After that I decided to move to Kraków where I started studying at Jagiellonian University. At this time I studied Cultural Management. In the course of studies I played in many bands and gained experience as professional drummer, side man, solo artist. At this stage I also had a handful of my own private drum students and the more students I had, the more I began to love teaching just as much as playing. During all this things I have not forgotten to practise and learn form others drummers and participate in workshops with drummers like Aron Spears, Benny Greb, Harry Tanschek, Atma Anur, Piotr Biskupski, Tomasz Łosowski. And take part in jazz workshops The International Summer Jazz Academy.
Associated acts
Since then I have been working on various original projects, touring the country with many different artists. I have played with Damian Kurasz, Janusz Muniak, Justlanded (New York), Notorius Rat, Fat Beats, Funk Me, BB Band Bartosz Bocheński Band, Dollars Brothers.
Infuencers
Drummers who had the greatest influence on me are Chris Coleman, Benny Greb, Dave Weckl, Tommy Igoe, Tony Royster Jr, Vinnie Colaiuta. I also film and record drum covers for YouTube and this website.